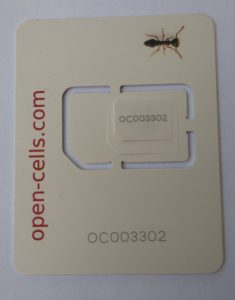 Open cells SIM card, version 4 (serial 0C 004xxx and onwards) looks similar to version 3 but the internal SW is new.
The cards offer 2FF, 3FF and 4FF detachable formats.
The cards support 5V and 3V
(1.8V is software disabled, even if the HW card supports 1.8V, concerns only low power NB-IoT  devices).
It is configured for 3GPP: GSM, WCDMA, LTE with milenage algorithm to perform 3GPP standard subscriber identification. It also supports now XOR authentication (not tested yet). We don't provide additional features related to Java applets.
We provide your custom settings and admin codes to change all the configuration yourself.
Some parts of personalization doesn't require to be standardized: only the operator has to use this interface to change the subscription. So the existing programming tools are not fully compatible with all UICC cards vendors.
Our cards are kept open for later personalization.
We have developed a open source Linux tool: uicc programing
This SW works with a card reader/writer to personalize these cards.
Our card interface is a standard one: raw dialog over a serial interface. These readers are seen as a standard bidirectional serial link over USB in Linux and windows. Any other raw serial interface UICC to USB would be compatible.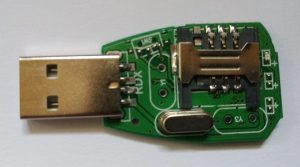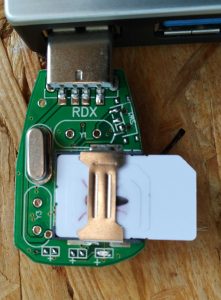 Another type of reader is frequently available: PCSC protocol (https://en.wikipedia.org/wiki/PC/SC). Such readers need drivers. It won't work with our SW, except if you develop the PC/SC protocol enhancement (quite easy, please contribute to our open source SW).
We provide support, only to our customers using our products together: our SW, our cards, our card reader, on Linux.
We supply the cards ready to use (programmed) for OpenAir: telecom values match our hss example database: Open Cells Tuto.
Our HSS database also works fine with other OpenAirInterface variants, branches, … as long as the HSS database structure (MySQL schema) is not modified in this specific branch.
Our cards remain open for you to change all values (IMSI, network name, milenage: OPC, Ki, …).  Version 4 protects the cyphering files as 'write only, never read', so no ADM code management is actually required.
If you need we configure the cards with other values write us: contact@open-cells.com
Shipping by express postal service is fixed price: 5€, we offer parcel tracking for orders > 100€
We stop shipping for some days: we have a software problem in the cards and too much postal service in current epidemic status.

UICC/SIM: 5€/piece
card reader/writer: 5€/piece
If you want a faster & easier card insert/remove operation or if you want to keep the cards full format, we also sell the 1FF/2FF format converters.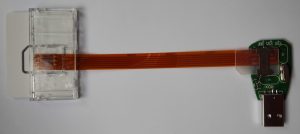 1FF-2FF converter: 3€/piece
Parcel tracking for orders below 100€ (offered if order > 100€): 4€/piece
If you order inside Europe, please provide us with your EU company tax id
(no tax will be charged).