Version 3.2:

bug fixing
Fix issues in PC/SC dialog, avoid SEGV with alien cards
Version 3.0:
Add support of PC/SC protocol readers
Add a README file with example commands
Version 2.6:
Fix 5G SA non-terrestrial (NTN) bit place
Remove redundant SMS center configuration in source code
the SMSC is set to a default value
Version 2.5:
Add explicit support of 5G SA and 5G SA non-terrestrial (NTN)

Our cards are still 3GPP rel8
We added in all PLMN with access technology files (operator controlled, user controlled) 5G SA and 5G NTN
this HELPs brands like Oppo/oneplus to see 5G networks

Quectel, Huawei were working fine without this change
Version 2.4:
Add core network debugging option

generate the AUTN message the 4G/5G core network must generate according to milenage algorithm
Version 2.3:
Fix compiling issue in RedHat
add option -ust to define USIM service table
Version 2.2:
Fix program assert related to MSISDN sending to the UICC card
Version 2.1:
Mandatory update

for cards serial > OC004110
early V4 cards (serial between OC004000 and OC004110) have a bug in AUTS: please contact support
Version 2.0:
Add support of V4 UICC cards
Version 1.7:
Added type approval operations + specific facilities in USIM file Administrative Data(EFad) for VoLTE
Version 1.6:
Added the USIM values display if the program is called without "–adm"
Added the –authenticate (milenage verification and SQN) without "–adm"
Version 1.5:
Updated the "USIM service table" for some terminals compatibility
(to be able to disable "roaming" in UE configuration)
Version 1.4:
Fixed bug for MNC on 3 figures: initial UE location and SIM card overwrite from 2 figures MNC
Version1.3:
Extended ADM code to hexadecimal values
Version 1.2:
Added feature to set "service provider name" (SPN)
This name is displayed on the UE as operator name.
So, setting SPN different on each card is a convenient usage in labs
Increased authentication delay to let more computation time to the UICC
Version 1.1:
bug fix:upper case hexa decimal values (A to F) was not processed correctly
Version 1.0, new features:
New feature to compute OPc from OP
New feature: test authentication (test milenage implementation) and determine the current SQN inside the USIM
More controls and warning
Less information printed by default
A tutorial on how to dialog with a "SIM card" and the 3GPP implementation
Open Cells program
uicc.h:
class UICC implements common dialog
class SIM implements GSM specific dialog
class USIM implements 3G/4G dialogs
aes.h, milenage.h:
AES and milenage simple implementation to test the UICC authentication procedure
program_uicc.c:
uses these classes to read/write data in Open cells cards.
Other suppliers cards will also work, for the part that is compliant to standards.
Compilation:
make
should compile with no warnings
Insert the card in the reader and the reader in a USB socket as: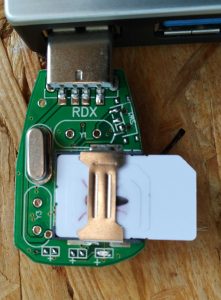 sudo ./program_uicc
reads basic data in the card
sudo DEBUG=y ./program_uicc
perform the same, with trace: all data exchange with the UICC are printed
sudo ./program_uicc --help
shows the parameters help to set values in the UICC.
A typical command line (with IMSI, OPC and Ki used in our example configuration files)
sudo ./program_uicc --adm 12345678 --imsi 208920100001101 --isdn 00000001 --acc 0001 --key 6874736969202073796d4b2079650a73 --opc 504f20634f6320504f50206363500a4f -spn "OpenCells01" --authenticate --noreadafter
A README.txt file in the source directory provides examples.
This README explains also how to use a PC/SC reader.
ADM code management changed in UICC version 4: you have to specify a ADM code to upload the UICC/SIM, nevertheless you can use any 8 figures value. For cards before version 4 (serial below OC004000 or no serial printed on the card), you must use the ADM code that is written on the invoice.
We offer free support: FAQ
If the answer is not in the FAQ, please write comments on the blog page: uicc-interface (so the answer can be used by other people).